Tour du Mont Blanc West (4-day trip)
A 4-day hike from Italy to France with great views of Mont Blanc
Early bird price – €599 per person for bookings made before end of 2023

Description: A 4-day hike across the western half of the TMB, starting in Courmayeur and finishing in Les Houches.
Dates:
20th-23rd June 2024 Available
18th-21st July 2024 Available
12th-15th August 2024 Available
September 2024 Subject to Mont Blanc Tunnel opening
More dates according to demand: contact us for details
Trip Length: 4 days walking, 3 nights
Group Size: 4-10 people
Cost: €599 per person
Trip Grading:
Physical Technical 
Join us for a fantastic group trek over a long-weekend or midweek along the world famous Tour du Mont Blanc (TMB) trail – perhaps the best known long distance trek in the Alps. We've timed it so you can fly into Geneva airport in the morning and be hiking the same afternoon. Then at the end of the trip, we'll get you back to the airport in time to catch a late flight, giving you four day's hiking over a four day holiday. We start hiking in La Visaille, close to Courmayeur in Italy, and finish the trek in Les Houches in the Chamonix Valley, back in France. In two full days and two short days on the trail we trek nearly half of the full Tour du Mont Blanc route.
If you want to stay in Chamonix for a few days after the trek, we can also provide a transfer back to the airport at a later date.
Quick links:
Overview
Detailed Itinerary
What to bring
Booking
Practical Information
Gallery
Reviews
What is included:
Transfers to and from Geneva airport (meeting in Chamonix is possible too)
Three nights half-board mountain refuge accommodation in shared dormitories
Picnic lunch on the first day
Four days guiding by a qualified International Mountain Leader with a UIMLA certified diploma
What is not included:
Flights
Lunches apart from the picnic on day one
Insurance
As this trip is sold as a package, specific terms and conditions apply in addition to the general White Marmotte terms and conditions. You also have extra rights under EU and French Package Travel rules.
Day 1: Pick up from Genva Airport or Chamonix. Walk from La Visaille to Rifugio Elisabetta
Day 2: Rif. Elisabetta to Col de la Croix du Bonhomme
Day 3: Col de la Croix du Bonhomme to Chalets Miage
Day 4: Chalets Miage to Les Houches

Suitability: The TMB is a moderately challenging hike, suitable for regular, fit hill walkers. We will be walking for up to 9 hours a day, with up to 1100m height gain per day. Altitude is not generally a problem, however, we will be walking at up to 2500m, at which most people will feel some shortness of breath. The trip is not suitable for children under 16, and we ask the 16-17 year olds are accompanied by an adult.
Accommodation: Accommodation throughout will be in mountain refuges with dormitory accommodation.
Meals: All breakfasts and dinners are included in the price along with a packed lunch on the first day. The remaining lunches are not included. We will either stop at a refuge or mountain restaurant at lunchtime, or purchase packed lunches from the overnight accommodation.
Transport: There will be a transfer from Geneva Airport on day one. Individual shared return transfers will be provided to meet your return plane.
Group Size: 4-10
Have a look at the photo gallery for more pictures of the trip.
Tour du Mont Blanc West – Detailed Itinerary
Day 1: La Visaille to Rifugio Elisabetta
We meet at Geneva airport between 11 and 11.30 am. From here we'll travel together to Chamonix, and then through the Mont-Blanc tunnel to La Visaille. We'll have a picnic lunch here before hiking up to the Rifugio Elisabetta mountain refuge via the old military road over Lac Combal. The path takes us beneath the imposing granite of the Italian side of Mont Blanc as we climb to the refuge where we'll spend the night.
Accommodation: Mountain refuge
Distance: 7km
Altitude Gain/Loss: 600m/0m
Maximum Altitude: 2197m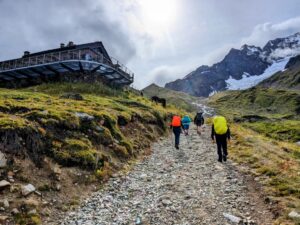 Day 2: Rifugio Elisabetta to Col de la Croix du Bonhomme
After breakfast at the refuge, we hike up Val Veny to the historic Col de la Seigne. After pausing to admire the epic views, we'll cross into France and descend to the Mottets refuge and the Vallée des Glaciers. The valley section gives us a welcome rest before the steep climb to the Col de la Croix de Bonhomme where we will stop for the night at the remote and spectacular refuge.
Accommodation: Mountain refuge
Distance: 18km
Altitude Gain/Loss: 1280m/1020m
Maximum Altitude: 2516m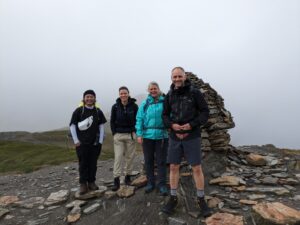 Day 3: Col de la Croix du Bonhomme to Chalets Miage
An airy traverse to wake us up will take us to the Col de Bonhomme and the head of the Montjoie valley. The picturesque descent follows an ancient Roman Road once used by salt traders. Crossing a Roman bridge, we continue to the valley and reach the town of Les Contamines. From here we hike up towards Mont Blanc to reach the round peak of Le Truc. A short descent leads to the idyllic meadows of the Miage chalets. This is a beautiful place to spend our final night amongst high Alpine pastures.
Accommodation: Mountain refuge
Distance: 19km
Altitude Gain/Loss: 650m/1530m
Maximum Altitude: 2485m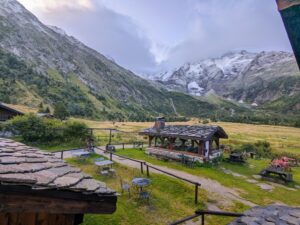 Day 4: Chalets Miage to Les Houches
After an early start, we tackle the final steep climb to the Col de Tricot. This is a real highlight of the trip, and a chance to take some last memorable photos. From the col, the Combe de Tricot leads down to the impressive suspension bridge below the Bionassey glacier. After this, there's a pleasant woodland section to reach the Bellevue cable car station. Here, we can either take the cable car down, or follow the four-wheel-drive track via the Col de Voza to reach Les Houches.
Accommodation: None – shared transfers to Geneva airport are provided.
Distance: 13km (or 7km with the cable car)
Altitude Gain/Loss: 710m/1020m (or 710m/480m with the cable car)
Maximum Altitude: 2120m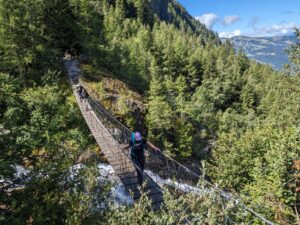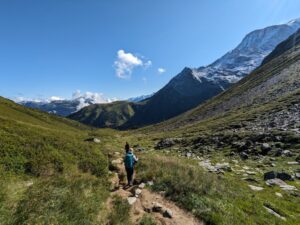 What to bring on the Tour du Mont Blanc
As we'll be staying in refuges overnight, we can travel light on this trip. You'll be able to fill up your water bottles and buy packed lunches along the way. However, you'll still have to carry enough kit for four days hiking. You should be able to keep the weight down to seven or eight kilos, plus water. Hiking gurus will be able to get the weight down even lower. You'll need to bring the following items:-
Rucksack large enough to carry everything – around 30 litres is normally enough
Waterproof jacket
Waterproof trousers
Warm jacket
T-shirts or base layers
Jumpers or long-sleeve tops
Long trousers (feel free to wear shorts, but please bring long trousers too)
Spare underwear and socks
Cotton or silk sleeping bag liner (available from Decathlon)
Travel towel
Water bottles (1-2 litres – please fill up before we leave Geneva)
Sunscreen
Toothbrush and toothpaste
Soap/shampoo/shower gel – Top tip: try a solid shampoo bar to save weight
Any personal medication
Sunglasses
Hat
Sun hat or cap
Trekking poles (optional but recommended – you can hire them from us if you need to)
If you have any questions or concerns about equipment, just ask and we'll be happy to advise you.
Booking
Click the button on the right to book online, or send us an email to bookings@whitemarmotte.com to request more information.
Please note that specific terms and conditions apply to this trip, so make sure you read these before booking.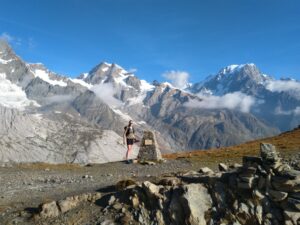 Practical information
Can I stay longer in Chamonix?
Yes, your return transfer can be arranged for a later date if you want to stay a few days longer in Chamonix. There are plenty of accommodation options in the town, from campsites to five star hotels. Our favorites include the three star Croix Blanche in the town centre and the four star Morgane in Cham Sud. There is an extensive bus and train network, so it is easy to get around the valley without a car.
If you arrive early, we can't offer an alternative transfer but we can pick you up in Chamonix instead of Geneva airport at the start of the trip.
I don't need transfers, can I get a discount?
If you are not flying from Geneva after the trip, we can offer a small discount as we won't need to book the return transfer. Get in touch for details.
What flights can I book?
We will leave Geneva airport at 11.30am on day 1, so you'll need to be in the arrivals concourse before then. We recommend booking a flight that arrives no later than 9.30am to allow time for delays. If you can only find flights that land between 9.30 and 10.30am, please check with us before booking as we may well be able to accommodate this.
For the return journey, we recommend booking any flight from 7.30pm onwards on day 4.
Do I need to be fit for the Tour du Mont Blanc?
While you don't need to be a marathon runner, you do need to be able to hike on hilly terrain for up to eight hours per day. The Tour du Mont Blanc is a mountainous route around some of the highest points in Europe. In general, we can cover 15-20km and up to 1300m of ascent in a day. To put this in context, it's a little like hiking up Scafell in the Lake District and Snowdon in North Wales on consecutive days. If you are not used to walking in the mountains we recommend that you get some practice beforehand – it is very different from walking on the flat.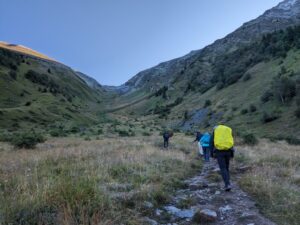 I have a medical condition, can I book onto this trip?
We do not recommend that you come on this trip if you have a condition that could lead to a life threatening emergency, e.g. severe allergies, severe diabetes or severe uncontrolled epilepsy. This is because much of the trip, including all of the overnight accommodation, is in remote terrain with no vehicle access. Evacuation is only possible by helicopter and may entail a long wait, particularly at night or in adverse weather conditions.
We reserve the right to refuse to take you on the trip or to ask for a letter from a physician before accepting your booking if you have a medical condition of this type. 
We also would not recommend this trip if you have any condition which impacts your ability to perform moderately strenuous exercise for long period or to walk safely on uneven terrain.
I don't have trekking poles, a travel towel, sleeping bag liner or another item on the list. Where can I buy them?
We find Decathlon is great for picking up these items at a reasonable cost. If you have any difficulty finding something, let us know and we'll see what we can organise for you.
What is the accommodation like on the TMB?
We use remote mountain refuges high in the Alps. If you have not stayed in these before the experience is definitely one you will remember. You can expect a warm welcome and a hearty communal meal, along with a bar service for any drinks or snacks before dinner. The accommodation is in dormitories, and being in a cabin in the mountains it can be a little basic. There are normally hot showers but this is not always guaranteed, especially in very dry summers as the water is sourced from nearby streams.
Please note that credit cards are often not accepted and there may be no wifi or mobile phone signal.
How big will the group be?
We aim to have a between four and ten people in a group. However, we will commit to running a trip from the first booking, so even if only one or two people book we will guarantee to run the trip. If you are the only person to book, we'll give you the option of coming on your own (with private guiding), transferring the booking to another White Marmotte product, or cancelling for a full refund.
What happens if I miss the meeting time on day one?
If you arrive late on the first day, please get in touch with us as soon as possible. We will do our best to organise for you to join the group as early as we can, however it is likely that there will be additional transport and/or accommodation costs which you would have to cover.
Insurance
Insurance is not included in the cost of this course, so you'll need to have your own insurance which covers search and rescue, including by helicopter, and emergency medical care in both France and Switzerland. This is a mandatory requirement in order to protect both you and us in the event of an emergency.
If you're a French resident, you can purchase a suitable policy at www.sport.lycea.fr.
Please read the specific terms and conditions that apply to this trip before booking.
Reviews
Read what other customers are saying about our trips and courses
See all our reviews and leave your own at Google or TripAdvisor