Tour de Mont Blanc West (4-day trip)
A 4-day hike from Italy to France with great views of Mont Blanc
Description: A 4-day hike across the western half of the TMB, starting in Courmayeur and finishing in Les Houches.
Dates: 23rd-26th June 2023
Dates: 7th-10th July 2023
Dates: 11th-14th July 2023
Dates: 4th-7th August 2023
Dates: 8th-11th September 2023
Trip Length: 4 days walking, 3 nights
Group Size: 4-10 people Cost: €648 p.p.
Trip Grading: Physical Technical
Join us for a fantastic group trek over a long-weekend or midweek along the world famous Tour de Mont Blanc trail – perhaps the best known long distance trek in the Alps. We've timed it so you can fly into Geneva airport in the morning and be hiking the same afternoon. At the end of the trip we'll get you back to the airport in time to catch a late flight, giving you four day's hiking over a four day holiday. We start hiking in La Visaille, close to Courmayeur in Italy, and finish the trek in Les Houches in the Chamonix Valley, back in France. In two full days and two short days on the trail we trek nearly half of the full Tour de Mont Blanc route.
If you want to stay in Chamonix for a few days after the trek, we can also provide a transfer back to the airport at a later date.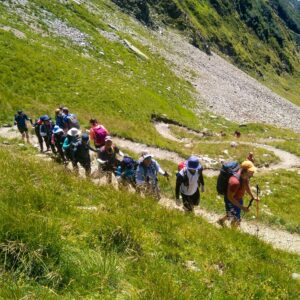 What is included:
Transfers to and from Geneva airport (meeting in Chamonix is possible too)
Three nights half-board mountain refuge accommodation in shared dormitories
Picnic lunch on the first day
Four days guiding by a qualified International Mountain Leader with a UIMLA certified diploma
As this trip is sold as a package, specific terms and conditions apply in addition to the general White Marmotte terms and conditions. You also have specific rights under EU and French Package Travel rules.
Day 1: Pick up from Genva Airport or Chamonix. Walk from La Visaille to Rifugio Elisabetta
Day 2: Rif. Elisabetta to Col de la Croix du Bonhomme
Day 3: Col de la Croix du Bonhomme to Chalets Miage
Day 4: Chalets Miage to Les Houches

Suitability: This is a moderately challenging hike, suitable for regular, fit hill walkers. We will be walking for up to 9 hours a day, with up to 1100m height gain per day. Altitude is not generally a problem, however, we will be walking at up to 2500m, at which most people will feel some shortness of breath.
Accommodation: Accommodation throughout will be in mountain refuges with dormitory accommodation.
Meals: All breakfasts and dinners are included in the price along with a packed lunch on the first day. The remaining lunches are not included. We will either stop at a refuge or mountain restaurant at lunchtime, or purchase packed lunches from the overnight accommodation.
Transport: There will be a transfer from Geneva Airport on Day 1. Individual shared return transfers will be provided to meet your return plane.
Group Size: 4-10
Detailed Itinerary
Day 1: La Visaille to Rifugio Elisabetta
We meet at Geneva airport between 11 and 11.30 am. From here we'll travel together to Chamonix, and then through the Mont-Blanc tunnel to La Visaille. We'll have a picnic lunch here before hiking up to the Rifugio Elisabetta mountain refuge via the old military road over Lac Combal. The path takes us beneath the imposing granite of the Italian side of Mont Blanc as we climb to the refuge where we'll spend the night.
Accommodation: Mountain refuge
Distance: 7km
Altitude Gain/Loss: 600m/0m
Maximum Altitude: 2197m
Day 2: Rifugio Elisabetta to Col de la Croix du Bonhomme
After breakfast at the refuge, we hike up Val Veny to the historic Col de la Seigne. After pausing to admire the epic views, we'll cross into France and descend to the Mottets refuge and the Vallée des Glaciers. The valley section gives us a welcome rest before the steep climb to the Col de la Croix de Bonhomme where we will stop for the night at the remote and spectacular refuge.
Accommodation: Mountain refuge
Distance: 18km
Altitude Gain/Loss: 1280m/1020m
Maximum Altitude: 2516m
Day 3: Col de la Croix du Bonhomme to Chalets Miage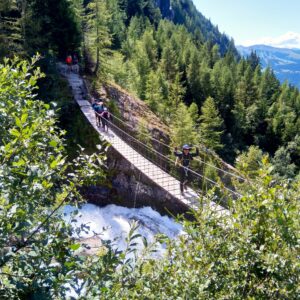 An airy traverse to wake us up will take us to the Col de Bonhomme and the head of the Montjoie valley. The picturesque descent follows an ancient Roman Road once used by salt traders. Crossing a Roman bridge, we continue to the valley and reach the town of Les Contamines. From here we hike up towards Mont Blanc to reach the round peak of Le Truc. A short descent leads to the idyllic meadows of the Miage chalets. This is a beautiful place to spend our final night amongst high Alpine pastures.
Accommodation: Mountain refuge
Distance: 19km
Altitude Gain/Loss: 650m/1530m
Maximum Altitude: 2485m
Day 4: Chalets Miage to Les Houches
After an early start, we tackle the final steep climb to the Col de Tricot. This is a real highlight of the trip, and a chance to take some last memorable photos. The Combe de Tricot leads down to the impressive suspension bridge below the Bionassey glacier. After this, a pleasant woodland section to reach the Bellevue cable car station. From here we can either take the cable car down, or follow the four-wheel-drive track via the Col de Voza to reach Les Houches.
Accommodation: Mountain refuge
Distance: 13km (or 7km with the cable car)
Altitude Gain/Loss: 710m/1020m (or 710m/480m with the cable car)
Maximum Altitude: 2120m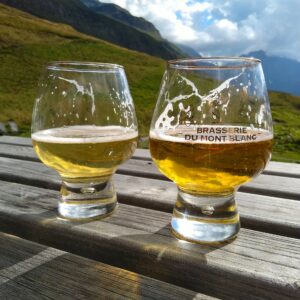 What to bring on the Tour de Mont Blanc
We'll be staying in refuges overnight so we can travel light. You'll be able to fill up your water bottles and buy packed lunches along the way. However, you will have to carry enough kit for four days hiking. You should be able to keep the weight down to seven or eight kilos, plus water. Hiking gurus will be ale to get the weight down even lower. You'll need to bring the following items:-
Rucksack large enough to carry everything – around 30 litres is normally enough
Waterproof jacket
Warm jacket
T-shirts or base layers
Jumpers or long-sleeve tops
Long trousers (feel free to wear shorts, but please bring long trousers too)
Spare underwear and socks
Cotton or silk sleeping bag liner (available from Decathlon)
Travel towel
Water bottles (1-2 litres – please fill up before we leave Geneva)
Sunscreen
Toothbrush and toothpaste
Soap/shampoo/shower gel – Top tip: try a solid shampoo bar to save weight
Any personal medication
Sunglasses
Hat
Sun hat or cap
Trekking poles (optional but recommended – you can hire them from us if you need to)
Booking
We plan to open online booking for this trip on 1st January 2023, but in the meantime, send us an email to bookings@whitemarmotte.com for more information or to secure your place.
Please note that specific terms and conditions apply to this trip, so make sure you read these before booking.