Chamonix Summer Hiking Week
Tick off the most famous hikes in the Chamonix valley, as well as unmissable views from its legendary cable cars. Our Summer Hiking Week takes you to the top of the Aiguille du Midi, Brevent and more, using the lifts to reach the best hikes.

Description: A week's centre-based and lift-accessed guided hiking in the world-famous Chamonix valley.
Dates:
7th-13th July 2024 Available
19th-27th July 2024 Available
11th-17th August 2024 Available
Trip Length: 5 days hiking, 6 nights
Group Size: 4-8 people
Cost: From €1700 per person
Trip Grading:
Physical Technical 
Alongside Zermatt, Chamonix ranks among the most famous mountain destinations in Europe. With its iconic peaks and almost three centuries of mountaineering history, this valley is as popular with hikers and climbers in summer as it is with skiers in winter. With so much hiking terrain around you, it can be difficult to know where to start. So why not let one of our expert hiking guides take you on our hand-picked selection of the very best hikes in the area. Along with exceptional hikes and incredible scenery, we'll also use the lift system to take you to some epic high altitude viewpoints, not to mention saving your legs by whisking you straight to the best hiking terrain.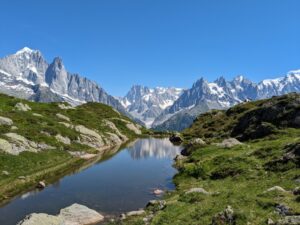 For the summer hiking week, you'll be picked from Geneva Airport and brought to your hotel on arrival day. Each morning, we'll meet you at your hotel and take you to the start of the day's hike – usually a ski lift. After the day's excursion, we'll bring you back to your hotel where you can relax in comfort, enjoy the spectacular views over the valley, or have a well-deserved drink in the hotel bar.
Quick links:
Overview
Detailed Itinerary
What to bring
Practical Information
Booking
Reviews
Gallery
What is included:
Transfers to and from Geneva airport (meeting in Chamonix is possible too)
Six nights half-board accommodation at a 3 or 4 Star hotel in the Chamonix Valley
Five days guiding by a qualified International Mountain Leader with a UIMLA certified diploma
Five-day Mont-Blanc Multi-Pass
Daily transfers to and from the start and end of hikes as required
What is not included:
Flights/transport to Geneva Airport
Lunches and hiking snacks
Insurance
As this trip is sold as a package, specific terms and conditions apply in addition to the general White Marmotte terms and conditions. You also have extra rights under EU and French Package Travel rules.
Overview
Day 1: Pick up from Geneva Airport and transfer to your hotel
Days 2-6: Daily hikes in and around the Chamonix Valley (sample itinerary below)
Day 7: Drop-off at Geneva Airport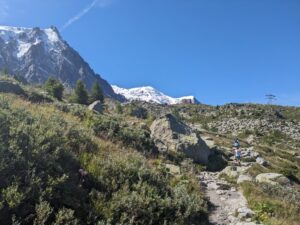 Suitability: This trip is suitable for moderately fit walkers with no previous hiking experience. We do tailor each trip to the needs and expectations of the group, but on average we expect to cover 10-15km in a day with up to 600 metres of ascent. Wherever appropriate, we'll use the lift system  to reach the higher terrain and avoid the tougher climbs. And as the trip is centre-based it's possible to skip any of the days if your legs need an extra rest! If you're looking for something tougher, the September Hiking Week is a bit harder. The September treks cover more vertical each day with less use of the lift system.
Age range: Adults and children aged twelve and upwards are welcome, but we do ask that under-eighteens are accompanied by a responsible adult. The trip is not suitable for children under twelve. 
Accommodation: We provide half-board accommodation in a 4-star hotel in the Chamonix Valley, such as the Hotel Prieure or similar. The price is based on two people sharing a room, and there's a supplement of €400 for a single room if you're booking on your own. If you are booking as a family or larger group, please get in touch to discuss accommodation options.
Meals: All breakfasts and dinners are included, but lunches are not provided. We'll usually stop for lunch in a mountain restaurant, but where this isn't an option, we'll take picnic lunches instead. For the picnic days, you'll be able to buy any items you would like from the local bakery or supermarket before each day's hike.
Transport: We provide shared transfers from Geneva airport to the hotel when you arrive, and from the hotel back to the airport on the final day. Please let us know your flight details as soon as possible so we can organise these. During the week, we'll provide minibus or car transport to and from the start points of the hike as needed.
Cost: Cost is €1700 per person based on 2 or more people sharing, or €2100 for solo travellers in a single room.
Group Size: 4-8
Have a look at the photo gallery for more pictures of the trip.
Chamonix Summer Hiking Week – Sample Itinerary
We adjust each day depending on the weather, trail conditions, and abilities and expectations of the group, so the following should be used as a guide only. However, we will generally aim to include the following hikes:
Day 2: Lac Blanc
A classic hike to one of the world's most iconic lakes. The lake itself is a celebrated viewpoint, popular with photographers. It also has a refuge providing a lunch menu, snacks, drinks and Tour du Mont Blanc accommodation. We'll make an early start using the Flegère Gondola to gain height, before following the Grand Balcon Sud with constant views across the valley to Mont Blanc, the Grandes Jorasses and the Aiguille Verte. We can often see wild ibex around here, and the animals are not as shy as usual due to being in a natural reserve. Then we'll head up to the lake via the smaller Cheserys lakes and a short ladder section. After lunch we'll make our way back to the Gondola for the return ride to the valley.
Distance: 9km
Altitude Gain/Loss: 550m
Maximum Altitude: 2350m
Lunch Stop: Lac Blanc Refuge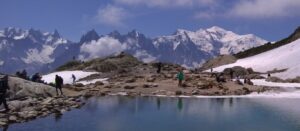 Day 3: Aiguillette des Possettes

The Aiguillette des Possettes looks like a sentinel, standing at the head of the Chamonix valley just short of the Swiss border. We'll start this hike in Le Tour, taking the gondola and chairlift up to2200m. From here, we'll cross into Switzerland behind the Tête de Balme, before returning to the Col de Possettes. Lunch today will be at one of our favourite mountain restaurants in the valley, the Chalets de Balme. This authentic Alpage farm serves traditional mountain dishes from both sides of the border – Savoyarde croutes alongside Swiss röstis.
In the afternoon, we'll make a short climb to reach the Tête de Possettes. This is possibly the best viewpoint in the Chamonix Valley that can be reached without using either a cable car or mountaineering equipment. From the summit, we'll follow the airy ridge until it plunges into the forest, then we'll swing left to head back to Le Tour and post-hike refreshments at the Le Passant bar.
Distance: 13km
Altitude Gain/Loss: 550m/1280m
Maximum Altitude: 2201m
Lunch Stop: Chalets des Balme

Day 4: Aiguille du Midi and the Grand Balcon Nord

No trip to Chamonix is complete without a trip to the top of the Aiguille du Midi. The world-famous cable car is the highest in France, and one of the country's most visited attractions. On a sunny day, the views across the Valley Blanche to Mont Blanc are absolutely stunning. We'll plan this day according to the weather forecast and aim to do it on the sunniest day of the week.
We'll start with an early ride up the two cable cars to the top of the Aiguille du Midi, and spend about an hour sightseeing. Returning to the mid-station, we'll make a short descent on foot to the Plan de l'Aiguille refuge where we'll embark on the Grand Balcon Nord, the classic balcony path on this side of the valley. Following the Balcon, we'll arrive at Montenvers railway station via the Signal Forbes, with its magnificent views of the Mer de Glace.
After a late lunch at one of the restaurants here, we can descend to the glacier itself to see the celebrated ice caves, time permitting. There are also some fascinating exhibitions about glaciology and the history of the site. For the descent to Chamonix, we have the choice of walking down through the woods or taking the historic cog railway.
Distance: 6.5-12km (depending whether we walk down)
Altitude Gain: 140m
Altitude Loss: 1400m (descent on foot) 500m (descent by train)
Maximum Altitude: 2250m
Lunch Stop: Montenvers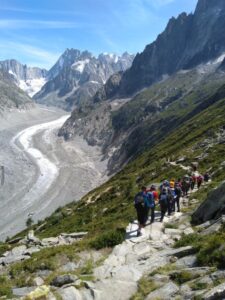 Day 5: Pointe de Vue
Today takes us to another fabulous viewpoint overlooking a glacier, this time the Argentiere Glacier. We start from Argentière with a ride up the Plan Joran Gondola. From here we'll trek across the rugged terrain of the Grand Montets ski area before we leave the lifts behind to ascend to the Point de Vue. This vertigo inducing viewpoint looks straight out across the cliffs and icefall where the Argentière glacier terminates in a maze of seracs. We can explore the moraine walls here, gaining a few more glimpses of that mesmerising glacier, before heading back through the ski area and steep woods to reach the Pendant Alpage. A short climb over the Tête de Prapators leads us to a snack stop at the Chapeau Buvette.
A short walk from the buvette brings us to another glacier viewpoint, this time over the Mer de Glace. This part of the valley was famously explored by JMW Turner 200 years ago, and while the views are still breathtaking, the ice has retreated a long way since then. From the viewpoint, the return to Argentiere takes us through Lavancher Village and the Petit Balcon Sud.
Distance: 15km
Altitude Gain/Loss: 500m/1400m
Maximum Altitude: 2270m
Lunch Stop: Picnic or the Chapeau Buvette

Day 6: Brevent and the Aiguillette des Houches

For the final day, we'll head up the Brevent lifts for one of the best views of Mont Blanc. After admiring the scenery from 2525m altitude, we'll take in the Aiguillette des Houches in a descending circular walk. This starts with a rocky descent of the Brevent ridge, with an option for a quick break at the Bellachat refuge. The climb to the Aiguillette gives us a different view as we reach the end of the Aiguilles Rouges massif and look down into the lower Arve valley. This view is dominated by the towering limestone faces of the Fiz range to the west. We'll drop down to the Chailloux pastures where we can stop for lunch at the buvette.
After lunch a woodland descent leads us past the Merlet animal park before a series of pleasant balcony paths bring us back to Chamonix
Distance: 14km
Altitude Gain/Loss: 300m/1700m
Maximum Altitude: 2525m
Lunch Stop: Chailloux Buvette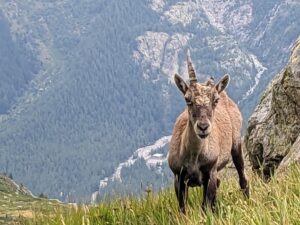 What to bring on the Chamonix Hiking Week
As we'll be based in a hotel, you only need enough equipment for a day on the hills. Chamonix has plenty of outdoor shops, so if you do need any extra gear you'll be able to pick something up. We suggest you plan to bring most of the following with you each day:
Rucksack large enough for a day's hiking – 20 litres is normally enough
Waterproof jacket
Waterproof trousers depending on the weather forecast
Warm jacket
T-shirt or base layer
Jumper or long-sleeve top
Long trousers (feel free to wear shorts, but please bring long trousers too)
Water bottle
Sunscreen
Sunglasses
Hat
Sun hat or cap
Trekking poles (optional but recommended – you can hire them from us if you need to)
Suitable footwear
Booking the Summer Hiking Week
Click the button on the right for our booking page, or send us an email to bookings@whitemarmotte.com to request more information.
Please note that, like our other package trips, specific terms and conditions apply to the Summer Hiking Week, so make sure you read these before booking.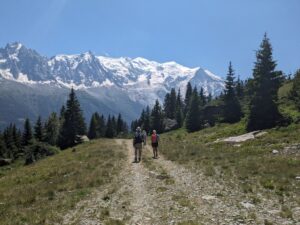 Practical information
I don't need transfers, can I get a discount?
If you don't need to travel to and from Geneva, we can offer a discount as we won't need to book the transfers. Get in touch for details.
Can I stay longer in Chamonix?
Yes! Your transfers can be arranged for different dates if you want to arrive early or leave late and stay a few days in Chamonix. You'll need ot reserve extra nights in the hotel, or there are plenty of other accommodation options in the town from campsites to five star hotels. There is an extensive bus and train network, so it is easy to get around the valley without a car.
What flights can I book?
We can arrange transfers to meet flights scheduled to land before 9pm on arrival day, and after 10am on departure day. Please note that we can't guarantee you'll get breakfast at the hotel if you need to catch an early flight.
Do I need to be fit for the Summer Hiking Week?
This is a hiking holiday, so you do need to have a certain level of fitness to get the most out of it. However, we'll be using the lift system to save our legs so this will be a less strenuous week than some of our other trips. There will be options cut most days shorter if people are tired, and you can always skip a day
We typically cover 10-15km and 500m of ascent in a day and will be out on the hills from about 9am to 4pm (note that this can vary a lot from day to day, especially taking the weather into account).
If you're looking for an touger week, the September Hiking Week might suit you better.
I have a medical condition, can I book onto this trip?
Please let us know if you have any condition that could affect your safety or your ability to complete day hikes at altitudes of up to 2500m above sea level. We will be happy to discuss ways to enable you to participate if at all possible.
Please be aware that even though we don't cross very remote terrain, any rescue will still need to be carried out by helicopter in most cases, which may involve a substantial wait in bad weather. For this reason, the trip might not be suitable if you have a condition that could lead to a life threatening emergency, e.g. severe allergies, severe diabetes, severe uncontrolled epilepsy etc. We reserve the right to refuse to take you on the trip or to ask for a letter from a physician before accepting your booking if you have a medical condition of this type.
I don't have a waterproof jacket, trekking poles or another item on the list. Where can I buy them?
Any good outdoor shop should stock everything on the list. If you have any difficulty finding something, let us know and we'll see what we can organise for you.
How big will the group be?
We aim to have a between four and eight people in a group for the Summer Hiking Week. However, we will commit to running this trip from the first booking, so even if only one or two people book we will guarantee to run it.
If you are the only person to book, we'll give you the option of coming on your own (with private guiding), transferring the booking to another White Marmotte product, or cancelling for a full refund.
Insurance
Insurance is not included in the cost of this course, so you'll need to have your own insurance which covers search and rescue, including by helicopter, and emergency medical care in both France and Switzerland. This is a mandatory requirement in order to protect both you and us in the event of an emergency.
If you're a French resident, you can purchase a suitable policy at www.sport.lycea.fr.
Please read the specific terms and conditions that apply to this trip before booking.
Reviews
Read what other customers are saying about our trips and courses
See all our reviews and leave your own at Google or TripAdvisor