Chamonix Hiking Skills Course
Learn to plan your own treks in the Alps with our Hiking Skills Week!


Description: A week-long Chamonix-based course to teach you the essential skills of Alpine hiking. The course is available as a full package with hotel and transfers included, or you can book the course-only option without accommodation.
Dates:
26th May-1st June 2024 Available
9th-15th June 2024 Available
More dates according to demand. Contact us for details
Trip Length: 5 days instruction and guiding, 6 nights
Group Size: 4-8 people
Package cost:
€1099 per person for 2 people sharing a room
€1299 per person for an individual room
Course-only cost: €400 per person
Trip Grading:
Physical Technical 
Do you want to improve your confidence hiking in the mountains? Comfortable in Snowdonia (Eryri) or the Lake District but not sure about trekking in the Alps? Our Chamonix Hiking Skills Course could be just what you need. Over the course of a week in Chamonix, we cover the essential skills for planning and hiking treks in the Alps. From navigation to mountain weather, equipment to terrain management and route planning, the course is designed to prepare you to organise your own Alpine treks.
For this trip, you'll be picked from Geneva Airport and brought to your hotel on arrival day. Each morning, we'll meet at the hotel and head out into the moutnains together. The days will be a mixture of Alpine hiking and skills training, with some days trekking at altitude and others learning essential skills in the valley. After each day's excursion we'll return to the hotel, somethimes with an informal theory session to finish. Then we'll leave you to relax in comfort, explore Chamonix, or have a well-deserved drink in the hotel bar.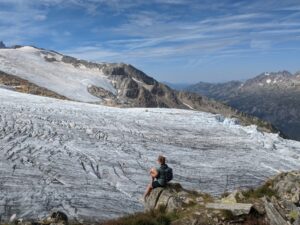 Quick links:
Overview
Course Content
Detailed Itinerary
What to bring
Practical Information
Booking
Reviews
Gallery
Chamonix Hiking Skills Course – Overview
What is included:
The full package includes:
Return transfers from Geneva Airport
Six nights half-board hotel accommodation
Five days guiding and instruction by a qualified International Mountain Leader with a UIMLA certified diploma
Lift tickets and public transport as needed
The course only price includes:
Five days guiding and instruction by a qualified International Mountain Leader with a UIMLA certified diploma
What is not included:
Flights/transport to Geneva Airport
Lunches and hiking snacks
Insurance
Please note that specific terms and conditions apply in addition to the general White Marmotte terms and conditions. If you book the full package you also have extra rights under EU and French Package Travel rules.
Day 1: Pick-up from Geneva airport at 5.30pm and transfer to the hotel in time for dinner
Days 2-6: Guided hiking and instruction around the Chamonix valley (sample itinerary below)
Day 7: Pick up from the hotel after breakfast and transfer to Geneva airport to arrive by 10.30am.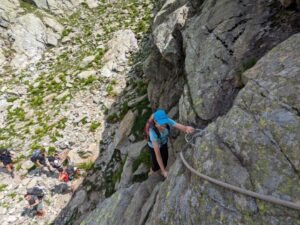 Suitability: No knowledge or technical skills are necessary. However, as we will be hiking in the mountains a good level of fitness is required along with a willingness to tackle uneven paths. We'll be ascending up to 1000m and covering up to 15km on some of the days. Please get in touch if you have any concerns about the level and we can discuss your individual situation with you. This course is not suitable for children under 16. Older teenagers aged 16 and 17 are welcome to come as long as they're with a responsible adult.
Group Size: 4-8 people.
Package Details
Accommodation: We stay in the Croix Blanche hotel for this trip. It's a fantastic hotel, situated right in the middle of Chamonix and dating all the way back to 1793. The price includes breakfast and dinner and is based on two or more people sharing. If you are on your own, we need to charge a single supplement to cover the extra costs of having your own room. If you're happy to share with a stranger (of the same sex) then send us a message and we'll arrange this if possible.
Meals: 6 x breakfast and 6 x dinner at the hotel. Lunches are not included as we will be out on the hill every day and we find that people like to choose their own midday snacks. There is a supermarket next door to the hotel, and there are also several excellent bakeries nearby where you can buy a picnic lunch.
Transport: Price includes return transfers from Geneva Airport at the specified times. For transport during the course, we'll use public transport as much as possible. Any lift passes and bus or train fares needed are also included.
Cost: The package cost is €1099 per person based on 2 or more people sharing, or €1299 for a solo traveller in a single room.
Course Only Details
For people living nearby, or preferring to make their own travel and accommodation arrangements, we can offer the instructional part of the course for €400 per person for the week. This includes five-days guiding and instruction. No transport costs are included so you'll have to pay for any lift tickets and bus or train fares (around €50-€60 over the week if you don't have a Chamonix lift pass).
Have a look at the photo gallery for more pictures of the trip.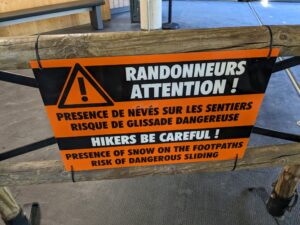 Course Content
Courses are tailored to the needs and wishes of the group, however you can expect to cover all of the following over the course of the week:
Navigation

With map & compass as well as using GPS devices
Path symbols and gradings (Swiss, Italian and French versions)

Route planning

With maps
With apps/websites
Planning your multi-day adventures
Timings
Planning public transport connections

Equipment and what to bring

Packing for the weather and terrain
Packing for day hikes vs multi-day treks
Necessary vs nice-to-have

Mountain weather

Interpreting and cross-referencing forecasts
Recognising changing weather

Difficult terrain

Steep ground (up and down)
Dealing with ladders and fixed ropes
Crossing summer snow
Dealing with river crossings

Contingency planning and escape routes:

Planning for the unexpected
Incorporating escape routes into everyday planning
Emergency services

Choosing accommodation
Detailed Itinerary
Day 1: A single transfer from Geneva airport will pick you up at 6pm and will drop you off at your hotel in time for dinner. Please ensure that your flight arrives in time for this. If you are having difficulty making this time, please get in touch and we can try to arrange an alternative.
Days 2-6: We'll meet at the hotel each morning and head out as a group, either walking from Chamonix or taking public transport. Each day will incorporate a theory session which we'll either do on the hill or back at the hotel afterwards. We'll finish by planning the itinerary for the following day as a group, taking into account the weather forecast and the course content we intend to cover.
Day 7: A single transfer to Geneva Airport will pick you up from your hotel after breakfast at around 9am.
The hikes and course content are tailored to the needs, interests and requirements of the clients, as well as the weather conditions. As such, the itinerary is not fixed, however the following is a sample itinerary that gives a feel for what is covered and what we can expect to achieve:
Chamonix Hiking Skills Course – Sample Itinerary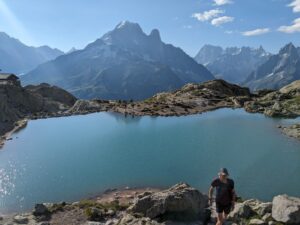 Day 2:
After breakfast we'll get together for some introductions, take a look at the weather forecast, and have a chat about what equipment to carry. After a half-hour break to give you a chance to buy a picnic lunch and pack your rucksack, we'll head out on the hike to Lac Blanc, or another classic Chamonix hike. Along the way we'll start to introduce the essential skills for hiking in the Alps, such as simple navigation, crossing difficult terrain, and mountain weather. We'll finish the day with a more in-depth look at packing and equipment for both single- and multi-day treks.
Day 3:
Today we'll head into the woods behind Argentiere to focus on navigation skills. We'll go through a series of exercises building our skills with different maps, using the compass, and introducing GPS devices and smartphone navigation. We'll finish up with a session on route planning using both traditional maps and mapping software.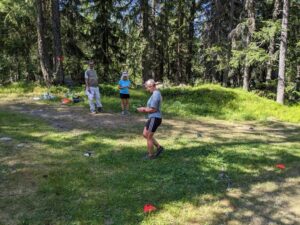 Day 4:
For the half-way point of the course, we'll take a cable car trip to the Plan de l'Aiguille. We'll start off using our newly acquired navigation skills to head up to Lac Bleu. Around the lake we'll cover some of the skills for moving on difficult ground, before dropping down to the classic Grand Balcon Nord trail. We'll follow this to Signal Forbes with its great views of the Mer de Glace, then descend to the Montenvers railway station. This is a good place to soak up the history of the region, and to reinforce just how quickly the glaciers are receding. From here, there is a pleasant descent through the woods back to Chamonix. During the day we'll take a look at nutrition and hydration as well, including the important question of whether the water is safe to drink.
Day 5:
On Thursday, we're back into the woods for advanced navigation skills, learning navigation away from paths, more compass techniques, interpreting contours, and how much we can rely on GPS. We'll also look at what to do when you get lost, before navigating up the valley to Le Tour. Back at the hotel, we'll plan an example week-long hike as a group, using maps, guidebooks and apps.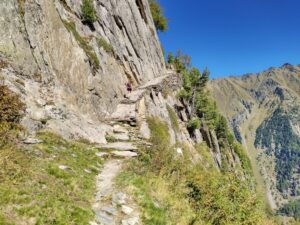 Day 6:
For the final day of the course, we'll hike from the Chamonix valley into the Trient valley in Switzerland and make our way back via public transport. There are several routes to choose between, so we'll plan this in advance as a group. This will give us a chance to utilise all the skills we've acquired over the week, and cover anything else you'd like to ask about.
What to bring on the Chamonix Hiking Skills Course
Since we'll be based in a hotel, you only need enough equipment for a day on the hills. Chamonix has plenty of outdoor shops, so if you do need any extra gear you'll be able to pick something up. We suggest you plan to bring most of the following with you each day:
Rucksack large enough for a day's hiking – 20 litres is normally enough
Waterproof jacket
Waterproof trousers, depending on the weather forecast
Warm jacket, e.g. down jacket
T-shirt or base layer
Jumper or long-sleeve top
Long trousers (feel free to wear shorts, but please bring long trousers too)
Water bottle (you'll need up to two litres on the longer days)
Warm hat
Gloves
Sunscreen
Sunglasses
Sun hat or cap
Trekking poles (optional but recommended – you can hire them from us if you need to)
Suitable footwear – hiking boots or strong trail shoes
The following items aren't essential, but bring them along if you have them
Compass
GPS device
1:25000 Map of Chamonix (IGN Top 25 sheet 3630OT)
If there is anything else you'd normally carry with you on a hike, do bring it along as well.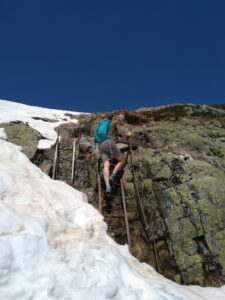 Booking the Chamonix Hiking Skills Course
Click the button on the right to book online, or send us an email to bookings@whitemarmotte.com to request more information.
Please note that specific terms and conditions apply to this course, so make sure you read these before booking.
Practical information
What flights can I book?
We will leave Geneva airport at 6pm on day 1, so you'll need to be in the arrivals concourse by then. We would suggest booking a flight that arrives no later than 4pm to allow time for delays.
For the return journey, we'll leave Chamonix after breakfast at around 9am, getting to the airport between 10am and 10.30am. With this in mind, we recommend booking flights from midday onwards.
Please get in touch if you have any concerns about your flight bookings.
Do I need to be fit for the Chamonix Hiking Skills Course?
You don't need to be super fit, but you do need to be able to hike all day in the hills. The Chamonix region has some pretty steep sections and we'll be covering up to 1100 metres of ascent and fifteen kilometres or so in a day. This will include some sections with ladders, chains and steep ground.
How much experience do I need?
We assume no prior knowledge on this course, so it is suitable for all aspiring hikers with a reasonable level of fitness. To start with, we'll cover the very basics of trekking in the Alps. Over the course of the week, we'll move onto more advanced skills and planning. So, whether you're fit but new to hiking, a regular hiker who always follows somebody else, or have some experience but want to improve your confidence, this course is designed to help you reach your hiking goals.
I don't have a waterproof jacket, trekking poles or another item on the list. Where can I buy them?
Any good outdoor shop should stock everything on the list. If you have any difficulty finding something, let us know and we'll see what we can organise for you.
How big will the group be?
We aim to have between four and eight people in a group. However, we will commit to running a trip from the first booking, so even if only one or two people book we will guarantee to run the trip. If you are the only person to book, we'll give you the option of coming on your own (with private guiding), transferring the booking to another White Marmotte product, or cancelling for a full refund.
I have a medical condition, can I book onto this course?
Please let us know if you have any condition that could affect your safety or your ability to complete day hikes at altitudes of up to 2500m above sea level. We will be happy to discuss ways to enable you to participate if at all possible.
Be aware that even though we don't cross very remote terrain, any rescue will still need to be carried out by helicopter in most cases. Consequently there may be a substantial wait in bad weather. For this reason, the trip might not be suitable if you have a condition that could lead to a life-threatening emergency, e.g. severe allergies, severe diabetes, severe uncontrolled epilepsy etc. We reserve the right to refuse to take you on the trip or to ask for a letter from a physician before accepting your booking if you have a medical condition of this type.
What happens if I miss the meeting time on day one
If you're arriving late on the first day, please get in touch with us as soon as you can. We'll do our best to get you to Chamonix as quickly as possible, but you will have to cover any additional transport costs incurred.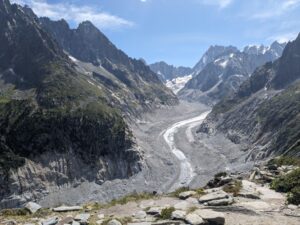 Insurance
Insurance is not included in the cost of this course, so you'll need to have your own insurance which covers search and rescue, including by helicopter, and emergency medical care in both France and Switzerland. This is a mandatory requirement in order to protect both you and us in the event of an emergency.
If you're a French resident, you can purchase a suitable policy at www.sport.lycea.fr.
Please read the specific terms and conditions that apply to the course before booking.
Reviews
Read what other customers are saying about our trips and courses
See all our reviews and leave your own at Google or TripAdvisor