December Mountain Safety Prep.
White Marmotte in conjunction with The European Ski School
La Description:  A five-day course for ski instructors preparing for the Eurosecurité, EMS or BASI Mountain Safety Course, or those needing a refresher in these skills.
Date:  2nd-6th December 2019.
Group: Course Length: 5 Days
Coût  €300 p.p.(course only)

Aperçu
This course will cover all aspects of the BASI EMS and Mountain Safety syllabus. Over five days, plus evening sessions, we will look at navigation, snowcraft, the basics of ski touring, transceiver skills and rope-work. This course is run in conjunction with the European Ski and Snowboard School.
Le Contenu des Stages
The course includes five full-days, six hours per day, of practical content. This will be on snow if possible. There will also be three evening lectures covering relevant course material. The exact programme will depend on snow conditions in early December. If possible, we will spend some time ski touring outside of the resort, as well as skiing on- or off-piste within the Deux Alpes ski area. If snow cover is poor, it might be appropriate to spend some time hiking below the snow line to practice navigation techniques. For this reason, we recommend purchasing ski passes day by day depending on whether one is required for each day's programme.
The course will be tailored to the individuals attending, with extra time allocated to areas needing the most work. We will cover all of the following subjects in depth:

Mountain navigation – distances and timings, navigation tools, contour interpretation, low visibility navigation & planning a route
Avalanche awareness – snowcraft (understanding the snowpack), terrain management, understanding the avalanche forecast
Avalanche rescue – personal transceiver skills, teaching transceiver skills to clients, group check strategies, multiple burial scenarios & limitations of transceivers
Skinning techniques – kick turns, setting a good skinning line, leading a group off-piste
The mountain environment – knowledge of fauna and flora, geology of the Alps, mountain hazards, relevance of the mountain environment to route planning and safety, weather
EMS ropework
Evening Sessions- snowpack and avalanche awareness, the mountain environment, weather and group management, mountain navigation. There will also be an opportunity to review the material covered on the mountain and clarify any areas of uncertainty.
Informations pratiques
Coûts additionnels: The cost of the course will be €300 per person, this is for the course only.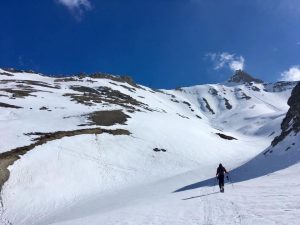 It does not include accommodation (see below), food and transport costs and lift passes. 
Lift Passes: We recommend buying passes day by day, as we are unlikely to be using the ski lifts every day. We provide updates closer to the course as the programme will depend on snow conditions.
Hébergement: Il n'y a pas de pénurie d'hôtels et d'appartements de qualité aux Deux Alpes pendant les mois d'été. La station s'adresse à tout, du budget à l'hébergement de luxe. Cependant, si vous avez du mal à trouver quelque chose qui vous convient, veuillez nous contacter.
Se rendre aux Deux Alpes: Le moyen le plus simple pour se rendre aux Deux Alpes est en voiture. En cas de vol, les aéroports de Lyon et de Genève offrent une bonne sélection d'options de location de voitures à des prix raisonnables. L'aéroport de Turin est également une option, mais les vols ici sont souvent assez limités. Le temps de trajet depuis l'aéroport de Lyon est d'environ 1 h 45 et depuis l'aéroport de Genève vers 2 h 45.
Il est possible de prendre une navette depuis les aéroports de Lyon et de Genève jusqu'à la gare routière de Grenoble. Ils fonctionnent environ toutes les heures et coûtent entre 10 et 30 €. De Grenoble, il y a un service de bus local très bon marché vers la station. Cependant, ce service ne fonctionne qu'une ou deux fois par jour. Pour plus d'informations, voir https://www.transisere.fr .
Si vous éprouvez des difficultés à organiser le transport, veuillez nous contacter!
Réservation
Pour plus d'informations ou pour réserver le cours, veuillez nous contacter à bookings@whitemarmotte.com.
Note
Please note that this course is sold and organised by the European Ski and Snowboard School. It is therefore subject to their Terms and Conditions and Cancellation Policy, and is covered by the Ski School's public liability insurance. White Marmotte staff delivering this product will be working directly for the European Ski and Snowboard School for the duration of this course. White Marmotte's role in this instance is solely as an advertiser of a third-party product.